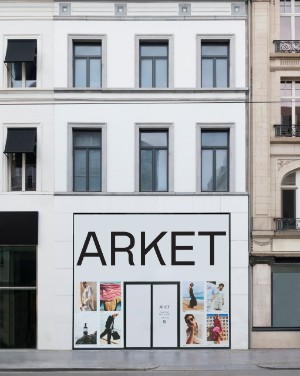 ARKET to re-open Belgian flagship store
Stockholm-based fashion and lifestyle brand ARKET will open a new flagship store in Brussels on 8 September 2023, following its previous store on Avenue de la Toison D'or. With an updated concept, the new space, 004035-940, will continue to offer the brand's modern-day market with essential products for women, men, children and the home.
Located on Avenue Louise 30 and with a total area of 350 square metres, the store combines the brand's monochrome palette of soft greys with natural materials such as solid oak and custom-made terrazzo flooring.
'We are super excited to welcome our Belgian customers back to our new physical ARKET destination. The location is new, yet the brand experience is unmistakably still there', says Pernilla Wohlfahrt, ARKET Managing Director.
The new Brussels store showcases collections from the women's, men's, baby and home departments, curated to simplify good choices and provide inspiration for a more beautiful everyday life.
Launched in 2017, ARKET is based on the concepts of sustainable design and everyday beauty. The core ideas are rooted in the Nordic modernist movement of the 20th century which bridged the worlds of arts, crafts and functional form to produce affordable and accessible items for daily use.
For more information, please contact press@arket.com
Sign up at arket.com and follow @arketofficial on Instagram for updates.